Dear GeoMapApp community,

We are pleased to announce a major new release, version 3.0.
This release represents a major upgrade to the base topography dataset accessible through GeoMapApp to include the GMRT 2.0, with greatly expanded coverage in the oceans, and the ASTER and NED topography datasets for the global land masses. The ASTER GDEM topography dataset (Japan METI/NASA), provides 30 m resolution for the continents from 83°S to 83°N and replaces the SRTM dataset used in earlier versions of GeoMapApp. For North America, the even higher resolution NED dataset (USGS) is now used, providing topography of the continental U.S. to 10 m resolution. For the oceans, the GMRT v2.0 synthesis includes bathymetric coverage to 100 m resolution from multi-beam bathymetry mapping expeditions and regional gridded compilations from a number of areas and international sources.
In addition, GMRT v2.0 includes a new 50 m grid resolution layer for the continental shelves and other ocean areas where native resolution of the available sonar data is sufficient. New data coverage within GMRT v2.0 is focused in the Atlantic and central Pacific with over 100 expeditions added since the prior release, GMRT v1.0. The high resolution bathymetry are merged with the Smith and Sandwell v12.1 global topography compilation, the IBACO v2.23 for the Arctic, and the BedMap Subglacial Topographic Model of the Antarctic.
The new release also includes several important bug fixes. The option to apply a scaling factor upon grid import has been fixed and options to import a grid in ESRI acsii format has been fixed. The profiling tool for contributed grids has also been fixed to deselect when main tool bar items are selected.
---
The new release can be obtained three different ways:
Visit http://www.geomapapp.org/

From the "Download Links" section, select your operating system, and click "AGREE" at the bottom of the page.
Alternatively, you can launch the new version using Java WebStart by clicking the indicated link.
Or just launch your existing version of GeoMapApp, you will be prompted to download the newest version.
Please email us with any problems, comments, and/or suggestions: info@geomapapp.org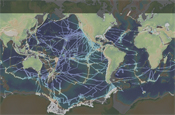 GMRT 1.0
Global Multi-Resolution Topography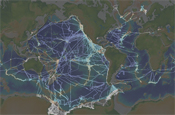 GMRT 2.0
Global Multi-Resolution Topography